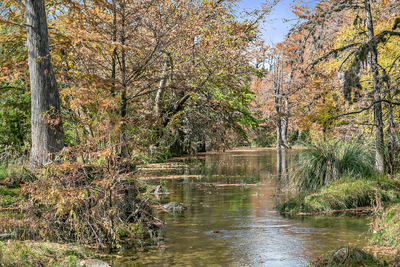 The Fish Hook Ranch, so named for the intriguing "fish hook cactus" that appear sporadically throughout the ranch, is approximately 900 acres near Cypress Mill in Blanco County. Property is fully fenced and crossed fenced with an abundance of grazing areas and cover alike for wildlife or livestock with 2 water wells and electricity in place. Spring-fed Cypress Creek is one of the most spectacular live-water waterways in the Hill Country...
more
This beautiful 300-acre live-water ranch is located less than 5 minutes south of downtown Marble Falls with multiple access points from U.S. Hwy. 281 on the east side of the ranch. It has approximately one-half mile of Burnet County Road 401 on the west side. The City of Marble Falls has a 16' water main across the east side of the ranch.
Year-round live water is provided by approximately a half mile of Flatrock Creek (both sides) that...
more